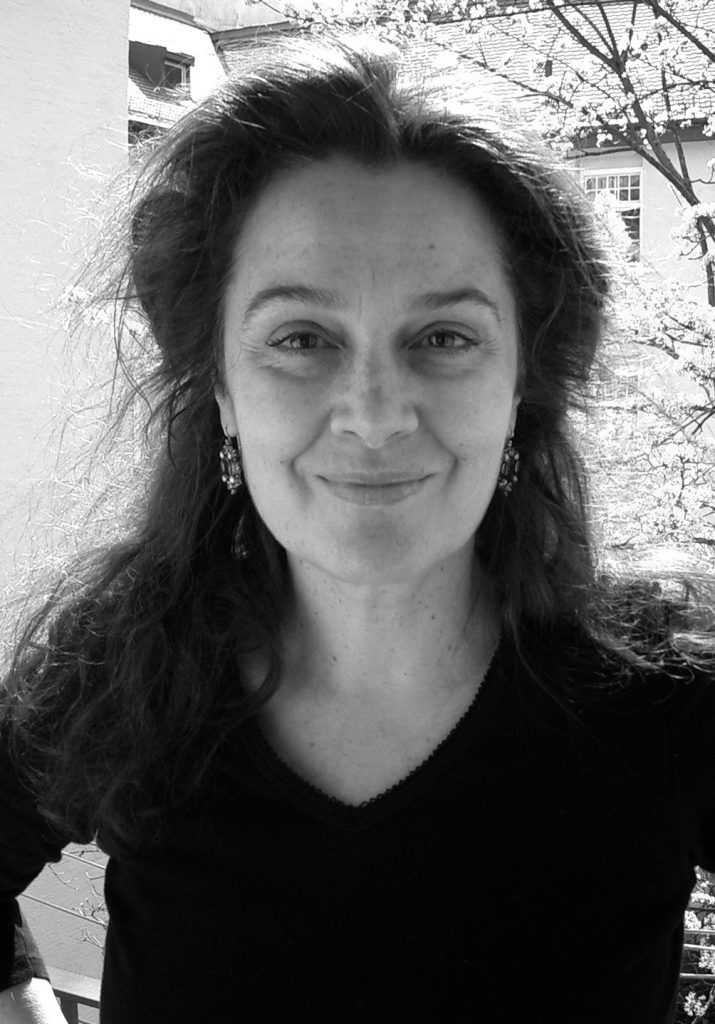 Filmemacherin und Malerin, geboren in Rheinfelden bei Basel, Schweiz. Studium und Abschluss in Theater-Regie/Schauspiel in Basel und Zürich.
Mehrere Jahre Theaterarbeit als Schauspielerin an den städtischen Bühnen u.a. in Bern, Augsburg, Darmstadt, Stuttgart, Frankfurt.
Seit 1987 Regisseurin für Fernsehspiel- und Dokumentarfilm für die ARD mit WDR, BR, SWR, für das ZDF, 3sat und ARTE.
Der Durchbruch als Regisseurin gelingt mit dem Fernsehspiel IN DER WÜSTE ERTRUNKEN, der Verfilmung der Geschichte der legendären Schriftstellerin und Abenteurerin Isabelle Eberhardt in der Sahara zu Anfang des 20. Jahrhunderts, gedreht in den Wüstenlandschaften Algeriens (ZDF)
In den USA entsteht TIMES ARE TOUGH, ein Roadmovie über die Geschichte eines Clowns in der turbulenten Welt der New Yorker Stand-up-Comedians (ZDF, ARTE), gefolgt von Fernsehspielen wie AUF LEBEN UND TOD nach einer Erzählung von Luigi Pirandello über den Mythos Kindheit (ZDF, ARTE).
In ihren Dokumentarfilmen und Reportagen überwiegen kultur- und gesellschaftspolitische Themen: DER AUFSTAND DER KINDER, ein Dokumentarfilm zum Thema Rassenkonflikt in Südafrika (ARD); SARAFINA – THEATER DER BEFREIUNG, ein Dokumentarfilm über eine schwarze Theatergruppe aus Johannesburg (ARD, ARTE); in FERN UND DOCH SO NAH geht es um Menschen im Grenzbereich zwischen Leben und Tod (ZDF, 3sat); in GEFÄHRLICHE UMARMUNG um die verhängnisvolle Verbindung von Liebe und Sucht (ZDF, 3sat).
Ein weiterer Schwerpunkt sind Portraits wie DER DALAI LAMA – GOTTKÖNIG DER TIBETER?, ein Portrait des Dalai Lama im Exil in Indien (ARD, ARTE) oder EINMAL UNTERWELT UND ZURÜCK, ein Portrait der kanadischen Schriftstellerin Margaret Atwood (ARD, ARTE), sowie Literarische Filmerzählungen wie LAND DES WINDES – LAND DER TRÄUMER über den Mythos Don Quijote im heutigen Spanien (ZDF, ARTE).
Zahlreiche Filme sind nominiert und ausgezeichnet worden, u.a. Goldener Löwe/Deutscher Fernsehpreis, Finalist New York Filmfestival, Gold und Silver Awards Houston Filmfestival.
Beginn der Auseinandersetzung mit der Malerei während der Arbeit als Filmemacherin; Gast an der Akademie der Bildenden Künste in München (u.a. bei Prof. Robin Page).
Seit 2009 gewinnt die Malerei immer mehr Raum. Es entstehen großformatige abstrakte Bilder (Öl/Mischtechnik) und Zeichnungen (Graphit/Tusche/Kohle).
Einzelausstellungen:
SCHICHTUNG UND SCHIEFERUNG, 2014
Die Galerie Christian Pixis in München zeigt einen Querschnitt aus den seit 2011 entstandenen großformatigen Ölbildern.
AUFSICHT UND UNTERGRUND, 2016
Neue Bilder von 2015 und 2016, Galerie Christian Pixis, in München.
 "Aufsicht und Untergrund sind die Pole, zwischen denen sich die Gegensätze entfalten: Aufsicht ist, was wir an der Oberfläche sehen, der tägliche Diskurs. Der Untergrund wird bestimmt durch die zahlreichen Schichten und Fundamente, die, nicht einsehbar, unter den Oberflächen liegen und sie tragen. Ob wir sie sehen können / wollen oder nicht, die Geometrie, die Brüche und die Deformationen im Untergrund prägen uns und unsere Sicht auf das Geschehen.
Es geht um die Art der Wahrnehmung, das Ausloten von Grenzen und deren Überschreitung, Deformation und Formierung. Eine Reaktion auf eine sich ständig verändernde Wirklichkeit. Es gilt, Sichtweisen immer neu zu kalibrieren. Jedes Bild ist ein eigener Prozess, in einem bestimmten Zeitraum, und in seiner eigenen Materialität."
Charlotte Acklin lebt und arbeitet in München.
 Film director and painter, born in Born in Rheinfelden near Basel, Switzerland; drama and stage-director studies with degree in Basel and Zurich.
Several years of theatre-work as an actrice in civic theatre houses, amongst others Bern, Augsburg, Darmstadt, Stuttgart, Frankfurt.
Since 1987 director of teleplays and documentaries for ARD including WDR, BR, SWR, for ZDF, 3sat and ARTE.
The movie THE DESERT DROWNING marks her breakthrough as a director: a documentary drama about the legendary author and adventuress Isabelle Eberhardt in the Sahara at the turn of the 20th century, filmed on location in the desert sceneries of Algeria (ZDF).
TIMES ARE TOUGH, filmed on location in the USA, is a road-movie portraying a clown in the turbulent world of New York stand-up comedians (ZDF, ARTE), followed by teleplays like A MATTER OF LIFE AND DEATH, based on a story by Luigi Pirandello about the myth of childhood (ZDF, ARTE).
In the forefront of her documentaries and reports lie socio-political and culturally political topics: THE YOUNG UPRISING, a documentary on the subject of racial conflict in South Africa (ARD); SARAFINA –THEATRE OF LIBERATION, a documentary about a black drama group from Johannesburg (ARD, ARTE); SO CLOSE YET SO FAR deals with people in a coma, on the border-line to life and death (ZDF, 3sat); PERILOUS EMBRACE faces the disastrous alliance of love and addiction (ZDF, 3sat).
A further focal point are portraits like THE DALAI LAMA – TIBETAN'S GOD-KING?, a study of the Dalai Lama in his Indian exile (ARD, ARTE), or ROUND TRIP UNDERWORLD, a portrait of the Canadian star author Margaret Atwood (ARD, ARTE), furthermore film narratives such as LAND OF WINDS – LAND OF DREAMS detailing the myth of Don Quixote in modern-day Spain (ZDF, ARTE).
Numerous films have been nominated and awarded, i.e. The Golden Lion/German Television Award, finalist New York Film Festival, gold and silver awards Houston Film Festival.
In line to her work as film director intense exploration with painting takes place. She participates in classes at the Munich Art Academy (e.g. Prof. Robin Page).
Since 2009 painting is the focus of her work, resulting in large-format abstract paintings (oil/mixed media) and drawings (graphite/ink/coal).
Solo exhibitions:
STRATIFICATION AND FOLIATION, 2014
Christian Pixis Art Gallery, Munich, shows a cross-section of large-format oil paintings 2011 – 2014
ABOVE AND UNDER, 2016
Christian Pixis Art Gallery, Munich: new paintings 2015 – 2016
Charlotte Acklin lives and works in Munich.